New Apps Now Available!
Apps are a new feature in Origin 2016, allowing you to extend the capabilities of Origin. We published five new Apps in January:
View all available Apps by visiting our File Exchange page.To watch App tutorial videos, visit our YouTube Channel.
Product Webinars in February
Register now to attend a free Origin product webinar:
Importing Data
February 4, 2016, 2:00 PM
Interacting with Microsoft Office
February 11, 2016, 2:00 PM
Data Processing and Statistics
February 18, 2016, 2:00 PM
OpenGL-based 3D Graphs
February 25, 2016, 2:00 PM
Seats are limited. Register today!
Upcoming Events
Pittcon 2016 Mar 7-10, 2016 Booth #1946
Georgia World Congress Center, Atlanta, GA
APS 2016 Mar 15-17 Booth #611
Baltimore Convention Center, Baltimore, MD
AIChE 2016 Apr 10-13, 2016 Booth TBD
George R Brown Convention Center, Houston, TX
Neuroscience 2016 Nov 13-16 Booth #1536
San Diego Convention Center, San Diego, CA
Contact with OriginLab
Stay in Touch with OriginLab and other users:
Send your comments and suggestions to:
For more information about OriginLab, visit:
Mailing Address:
OriginLab Corporation
One Roundhouse Plaza, Suite 303,
Northampton, MA 01060 USA
Tel: 1-413-586-2013
Tech Tips
Making Dynamic Inset Graphs
Origin provides users with a number of ways to generate inset graphs for sections of their data. This blog post will show you three ways to accomplish this using templates, enlarged graphs, and by manually adding layers to existing plotted data.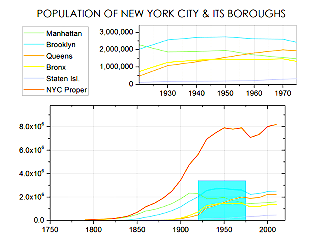 Visualizing the Negative Log
The logarithm of a negative value is not defined in the read space, but in practical applications, we occasionally see that the magnitude of the data changes exponentially even in the negative area. This blog will show you how to present such data in a graph.